HSEQ management system
HSEQ Management System Hierarchy
The Thorco Projects HSEQ Management System comprises a hierarchical arrangement of documents and follows a structured approach to managing HSEQ risks. The lower levels within the document hierarchy must meet and support the requirements of the higher level documentation.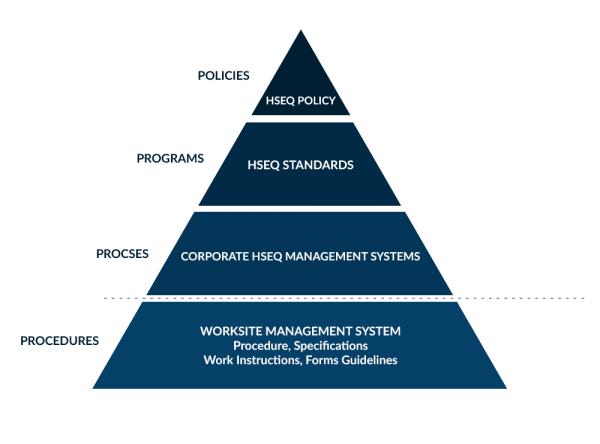 HSEQ Policy
The Thorco Projects HSEQ policy defines the company's expectations and requirements in order to meet the organization's strategic objectives.
HSEQ Standards
The Thorco Projects HSEQ Standards establish the company's expectations and minimum required performance objectives for managing HSEQ within Thorco Projects. The HSEQ Standards are mandatory to all Thorco Projects activities and operations.
Corporate Management System
The Corporate Management System is comprised by Thorco Projects' procedures and processes which outline specific activities (in line with the HSEQ Standards) that are applicable to all Thorco Projects' operations. These documents address specific topics where it is important that activities are carried out in a consistent manner.
Worksite Management System
The Worksite Management System outlines the processes and activities for managing HSEQ for a specific project or facility and is intended to support the HSEQ Policy and the HSEQ Standards. They apply only to the facility or project in connection with which they are issued. The Worksite Management System makes provision for client- and/or country-specific requirements to be incorporated into the HSEQ Management System. Where the Corporate Management System documentation satisfies the country or client specific requirements, direct reference, or use, can be made to the corporate management system documentation. Although the HSEQ requirements have been integrated in the HSEQ Standards, the decision of whether to comply with these HSEQ Standards by means of a single integrated system or separate systems is at the discretion of the individual project or facility.